JOHNSTOWN, Pa. – Marla Walther is at home in the water.
The Southmont resident is a certified divemaster with more than 500 dives to her credit from locations all over the world.
"I've been diving for over 40 years, and the adventure of it, exploring underwater and being in an environment that you're not supposed to be in is exciting," Walther said. "The underwater environment is very fascinating."
Her proclivity for diving began in the '80s when she took a college course while stationed in Wyoming with the U.S. Air Force.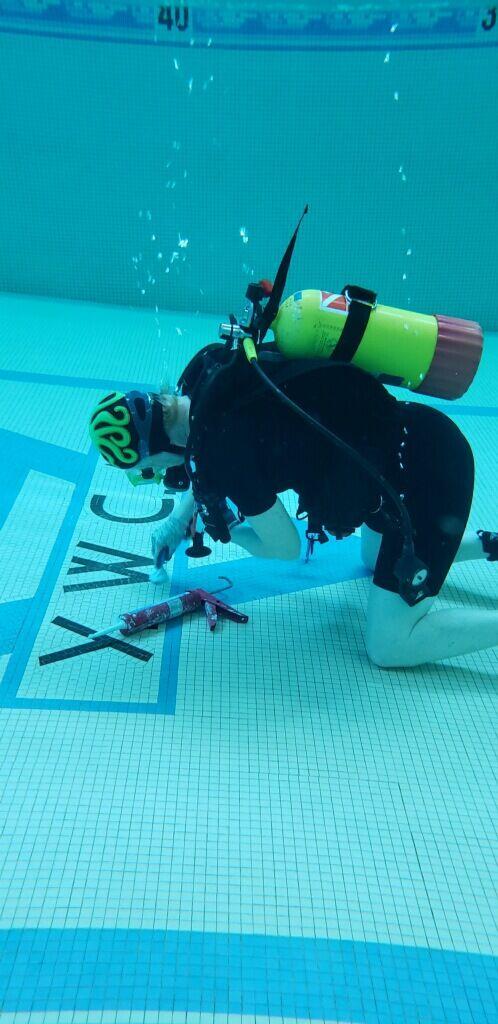 "I needed a PE credit and they were offering scuba diving, and I thought it sounded interesting," Walther said. "I went and took the class and loved it, and I have been diving ever since."
Achieving certification starts in the classroom with learning the dynamics of scuba diving and its dangers.
"You initially get in the water in a pool and do a number of pool sessions to learns skills, what to expect underwater and how to react under the water with the gear," Walther said. "Once you've gone through the series of lessons and classes you then do open water dives."
She said once you're certified there's no requirement to recertify.
"There are a lot of types of certifications, but basic open water certification is all you need, unless you want to go do something more adventurous," Walther said. "I'm a divemaster, so that's a certification just below an instructor. It's a professional certification that I acquired over some time."
Her diving resume includes numerous trips around the globe from the Great Barrier Reef in Australia to the Red Sea, the Caribbean, Aruba, Honduras, Spain, Africa and Cuba.
"I just came back from Fiji three weeks ago and that was specifically to go diving," Walther said. "I want to do more diving at locations in the Indo-Pacific because there's some really good diving there. The next trip is probably going to be to the Galapagos Islands."
She said marine wildlife varies from region to region and each location has its own distinct characteristics.
"I really enjoyed diving in the Red Sea and part of that was I got to dive with my kids," Walther said. "The Great Barrier Reef was cool, and we were on a live-aboard and I enjoyed that experience. Fiji was really awesome because there were so many fish and the reefs were really nice. And when we were in Cuba, we were the only people diving there."
She said she's had some memorable encounters while diving, but seeing cephalopods, specifically an octopus, is a highlight.
"They are wicked smart and the most intelligent species of invertebrates in the ocean," Walther said. "On the rare occasions when I've met an octopus in the wild, that has been the most exciting experience of all."
She said, as a diver, you are in a position of responsibility as an advocate for the ocean and preserving the environment for the generations to come and the future of the planet.
"The health of the oceans plays an integral part in the health of the world, from sources of sustainable food to the air that we breath," Walther said. "As a diver, you have a front-row seat in witnessing the human impact on that environment and working together to find ways to educate and protect it from further damage."
She added that it's important to be a part of the solution.
"No diver should be a passive underwater bystander," Walther said.
Along with being a member of PADI (Professional Association of Diving Instructors) and DAN (Divers Alert Network), she belongs to REEF (Reef Environmental Education Foundation) whose primary goal is preservation and accountability, along with conducting fish surveys that document the population of fish species around the world.
"Aside from the actual scientists, the majority of members are citizen scientists, people with a reasonable working knowledge of fish species identification who take voluntary fish surveys when they are diving recreationally and submit them to the database," Walther said. "I think it's human instinct to try to protect what you love."
In addition, Walther volunteers weekly by cleaning tanks at the Pittsburgh Zoo & PPG Aquarium.
"I learned about the program 12 years ago and have been doing that ever since," she said.
Walther gets into the 100,000-gallon Big Ocean saltwater tank as well as the aquarium's smaller fresh and saltwater tanks to perform maintenance work.
"We get in there and clean windows, scrub corals and rocks and vacuum gravel," she said. "It's fun and you get to know the animals in the tanks. It's something productive that I'm doing, and it keeps me current with my diving."
Walther recently did work to repair tile to the pool at YWCA Greater Johnstown.
She said those interested in diving should go for it and start exploring.
"There's scuba instructors all over the place and dive shops in the area, and they all offer dive classes and schedule trips for groups to go to different parts of the world," Walther said. "You don't need any real special qualifications to start diving, just an interest in adventure."
— to www.tribdem.com